As social workers around the world celebrated World Social Work Day, a group of university students celebrated it with a flash mob dance and awareness talks. Some 100 Master of Social Work students at the Assam Don Bosco University's School of Humanities & Social Sciences invaded the School of Technology Campus at Azara, Wednesday 19 March, with the message of "Respecting Diversity, Connecting People."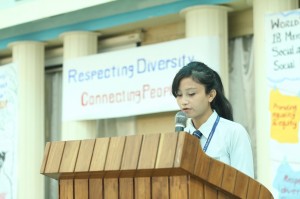 "We used this attention grabber during the lunch break, to drive home the message to all, faculty and students," said Assistant Professor Jacob Islary standing by cheering the students.
Students who left classrooms for lunch break watched and cheered the dancers from the corridors of all four floors of the building which has an atrium in the middle.
Ladies dressed in blue jeans and white T-shirts, and boys in black T-shirts danced to a medley of tunes typical of the various ethnic groups of northeast.
On a serious note, earlier in the morning, the MSW students presented the theme with songs and a speech highlighting the importance of social work to build social harmony, respecting diversity and connecting people.
Leading regional newspaper carried an article by faculty member Mrs. Shanthalembi Lisham entitled: Social work education in northeast India.
World Social Work Day is celebrated on 18th March as opportunity to advocate a social work perspective in political systems that effect the wellbeing of peoples and to celebrate the social work contribution to societies.