The three student teams that participated at the Water Conference held at Guwahati 5-8 February 2015 under the guidance of Assistant Professor Mrs. Pori Das (Department of Civil Engineering) won both first and second prizes. Lauding the students for winning first and second prizes the Central Minister for Water Resources and the Chief Minister of Assam congratulated them.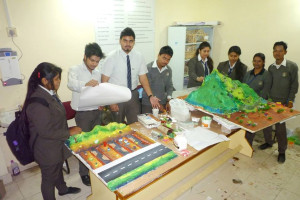 In the inaugural session of the conference held at Assam Water Research and Management Institute at Basistha Guwahati, the Central Minister of Water Resources, Uma Bharti and Chief Minister of Assam Shri Tarun Gogoi expressed their admiration for both ADBU models.
Ms. Uma Bharti asked the DoNer Minister, Jitender Singh to call ADBU Team for a presentation in February 2015 itself, to assess practical implementation of the models.
Mrs Das says, "Uma Bharti particularly mentioned about ADBU model in the conference and so there was a big rush at our stall to see our models."
Four 6th Semester students took part in two competitions held under students category, participated by all the technical institutes of Guwahati including IIT Guwahati, AEC, AEI, Royal, Scholars, Guwahati School of Architecture, and GIMT.
The second competition category was student model-making on the theme 'Management of Water Related Disasters – Urban & Rural'.
Thirteen students of 6th Semester won the first prize for their project on 'Self Building Mudflow Fence Dams'. The working model with theme "Going with nature to offset its destructive forces" showcased landslide and how to deal with it. It was placed under novel, innovative, eco-friendly, pro-community-participation, low-cost, less-labour intensive methodology.
Six students of 4th Semester and 1 student of 8th Semester won the 2nd prize for: Urban Stormflow Stilling Drains. The working model exhibit showed how to increase the capacity of the existing drains by placing commonly available prefabricated concrete blocks, sal wood blocks or boulders.
Assistant Professor Mrs. Pori Das and the award-winning students were called for discussion by Sushri Uma Bharti at Brahmaputra Guest House on 10th Feb, 2015 to discuss on the implementation of the Self Building Mudflow Fence Dams at Chattisgarh and the hilly regions of North East Himalayan regions and asked for submission of a project proposal for the same to the Union Ministry of Water Resources, Govt. of India.
Further developments from the meeting are: ADBU students would be called for the India Water Week, New Delhi. The students would be invited for 2-3 months internship with stipend under Ministry of Water Resources, Government of India. Ms. Pori Das would be called for technical suggestions on matters related to such low-cost water resources management technology for North-eastern region of