The academic year 2015-2016 started off with two day Staff Enrichment Programme where participants learned to come up with new business ideas for start-up companies and process the same to a successful business plan and job creation, 10-11 July.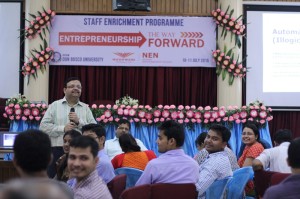 The Human Resource Director, Juhi Baruah giving the reason for the workshop said "as we embark on the new academic year, we need to continue being conscious of our role as educators in enabling students to create opportunities for themselves and inculcating entrepreneurial values."
Baruah further stated that the Government plans implementing a scheme for entrepreneurship development that would "introduce specific courses in at least 5,000 colleges over the next three years as a means to boost employment opportunities and economic growth."
Two resource persons from Kolkata Mr. Deepak Khaitan and Mr. Subhabrata Bhattacharjee of Wadhwani Foundation and National Entrepreneurship Network (NEN) engaged some 140 faculty members who came up with ten business proposals. Three of these adjudged best proposals included: App Based Comprehensive Domestic Services (ABCDs); Spoken English Training Institutes for Villagers; and Portable Water Purification System.
The NEN trainers encouraged faculty members to launch the proposed start up companies, motivate students, and promised assistance in mentorship.
Last year, the Ministry of Micro, Small & Medium Enterprises (MSME) accepted Assam Don Bosco University's proposal to set up Entrepreneurship Development & Incubation Centre (EDIC) at  Azara campus.
The University's EDIC Coordinator and Asst. Prof. Rashmita Baruah states, "the Ministry has a number of programmes to help and assist entrepreneurs and small businesses."