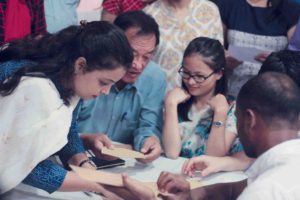 A two day staff development programme was held on 5-6 July at Azara Campus of the University with a theme 'Developing a Growth Mindset…for navigating Change' with Prof (Fr) George Palamattathil and Prof (Fr) Jose Parapully as the resource persons.
This topic was carefully designed and selected with keeping in mind the ever changing economic landscape which is becoming more disruptive with an accelerating change. In this scenario, Universities are not exempted. In an ever changing world, there is one constant truth; only those who adapt can survive. Agility and a willingness to innovate are therefore, not just "desirable attributes" but central to growth. Therefore, this Development Programme was an attempt at inculcating a growth mind set in the University's staff.
During these two days, the University staff was divided into two groups and attended two different sessions with different approach on the theme. Topics covered in these sessions included the importance of – team work, having the ability to think for the good of the whole but not only for self, having the courage to recognize and appreciate the strengths of others etc. The participants were also given a chance to pen down what they thought as a fixed mind set and a growth mind that the University as a whole has – which were presented in groups and deliberated upon. Overall, the programme opened up new perspectives on various important issues that can contribute for the growth of the University while exploring challenges that lie ahead.