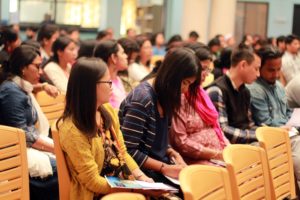 A two day Staff Development Programme of Spring Semester concluded today at Tapesia Campus of the University.
The Resource Person, Prof (Fr) George Palamattathil explored the topic 'VALUING SELF-REFLECTION…for transformation', dealing with the importance of reflecting upon one's own actions and thoughts.
During these two days, topics related to empathy, what one learns from experiences, reflection on classroom teaching, reflective writing, journaling and many more topics were covered. Some of these topics were also discussed in groups and presented. With visual aids and games, what began as an unstructured programme turned out to be one of the best staff development programmes organized in the University.