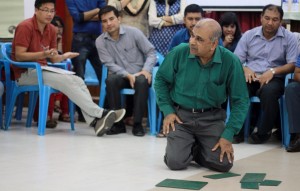 As the University geared up for the Academic Year 2016-17, a two day staff development programme on with a theme "Collaborating and Building Trust…for effective results" was held on 22-23 July, 2016.
Mr. Neville Lobo, former Global Head of Training and Development, Larsen and Toubro (L&T) who had conducted such a programme effectively twice for the University was the resource person.
Addressing a packed room of University Staff, Vice Chancellor, Fr. (Dr) Stephen Mavely said, "The University has been built on collaborating and building trusts among its family members. It is when we work together as a team irrespective of our background, religion or culture that we move forward".
Encouraging the participants to be humble and never hold back from appreciating others, Mr. Lobo said, "Praising others and recognising the strengths of colleagues does not belittle a person, rather, it lifts a person up. To be able to say nice things about others, one needs to possess humility, and that is the key to becoming a down to earth person".
On 'team work' he said, " As a team we have a common objective that binds us together, so, when in a discussion, one should learn to focus of what the group wants, but not on trying to push through what he/she wants. That is the way to reach a consensus. When there is a consensus, it brings in ownership and the responsibility of being a part of the team to the members".
Among many topics covered were conflict resolution, equal distribution of duties, breaking the paradigm, thinking differently and consensus decision making.
"We have learned the importance of keeping the higher goal before individual goal as we work together and the need for optimum conflict to arrive to a good decision," said Prof. Kalita, Director of the School of Technology.
Prof. Sunandan Baruah, HoD of the Department of Electronics and Communication said that he was, 'very impressed by how Mr. Lobo structured and delivered the two day programme with a lot of fun and reflective activities with important messages'. He also added, "It was a great learning experience and taught us the need of respecting others' opinions in making decisions".
The University sincerely thanks Mr. Lobo for having made himself available to us in spite of his busy schedule and we look forward to more of his presence amongst us.