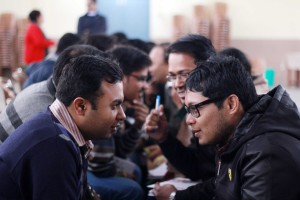 Aligned with the holistic developmental policy of its staff and faculty, the University on 22-23 January organized a two-day development programme at the School of Technology's Auditorium. Mr. Neville Lobo, former Global Head of Training and Development, Larsen and Toubro (L&T) conducted a lively and interactive training on 'Relationship and Communication…the key to success'.
The training programme aimed at helping the participants to have a better understanding and relationship, and also to recognize their own communication styles and personality traits and how these styles and traits differ from one another.
Through interactive activities, self-assessments and discussions, participants gained an awareness of their communication styles and learned strategies to resolve conflict and how to adopt strategies for communicating effectively with others. Participants also learned skills to communicate and listen effectively, and how to maintain relationships through inspiring trust and giving and receiving feedbacks.
"Disorderly information and knowledge make us disoriented, culminating our minds to be in a state of confusion. But, whenever all these get organized in terms of some order, sequence, process or scheme, we are out of the confused state and feel enriched with a wealth of knowledge – the importance of this was one of the many things I learned during this development programme", said Dr. Manoranjan Kalita, the Director of the School of Technology.
Also, commenting on the two-day programme, the Director of Human Resources, Ms Juhi Baruah said, "Neville delivered an excellent programme; meeting the objectives of a Staff Development Programme, targeted at relationships and communication as a key to success in a working environment. The 'role plays' were relevant and the participants immersed themselves with great enthusiasm."