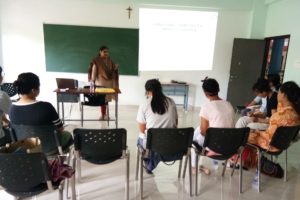 The Department of Psychology and Counseling in collaboration with North East Counsellors' Association conducted a 12 day certificate course on 'Specific Learning Disabilities and Remedial Education' from 20th August to 1st September, 2018. The course primarily focused on the acquisition of in-depth knowledge in the area of Specific Learning Disabilities. The main resource person for the course was Ms Rumana Fatehi, President of Institute for Exceptional Children, Mumbai. Ms Fatehi is an expert in the field of SLD with an experience of more than 30 years.
During the first week Ms Fatehi focused on training the participants on SLD, the diagnostic criteria, screening and intervention for the same through case studies and handbooks of the children suffering from SLD. The participants were also given a detailed orientation about Curriculum-based assessment, Bloom's Taxonomy and Individualized Education Programme (IEP). In addition, she also thoroughly explained about the case documentation and practical work that the participants needed to carry out for completion of the certificate course.
The second week of the workshop was aimed at providing hands on training in the field with the assistance from experts from various allied fields like Occupational Therapy, Speech Therapy, Special Education and Counseling. Professionals with expertise in the field of SLD, Ms Meenakshi Borthakur, Dr Sangeeta Goswami, Dr Bani Chakrvarty, Ms Manashi Devi , Ms Neel Harit Kaushik, were invited as Resource Persons with the aim of providing the participants a holistic idea in the area. They covered topics on Neuro- Developmental Disorder and Intellectual Disability, Communication Disorder , Autism Spectrum Attention Deficit Hyperactive Disorder, Sensory Integration Disorder, Role of other Professionals in helping children with SEN and Basic Skills in Counseling , Counseling Children, Parents, and Teachers, Life Skills Program and Social Skills Program. Another resource person, Ms Nivedita Tiwari also conducted a session on Arts Based Therapy to aid in the remedial education for the children.
As the workshop concluded after 12 days of theoretical sessions, the participants will be placed in various institutions where they will apply their theoretical learning in practical for a period of 1 month with a hope of acquiring practical knowledge on the same.