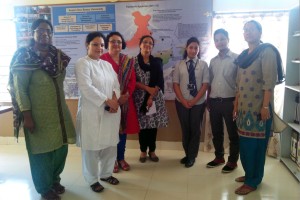 SOS India visited the Department of Social Work, Assam Don Bosco University as part of their campus recruitment process on May 5, 2014 and recruited two of the graduating Masters of Social Work Students. The Country Head of HR, Ms. Anuradha and the Zonal Head – HR, Ms. Subha represented SOS Organisation. In the beginning they oriented the students about their organisation, activities and also the job positions they were looking for. A short documentary of SOS (National and International) was presented to give an overall idea of their programmes. Most importantly, they emphasised that they were looking for people to work across India. After the presentation twenty students registered for the interview. The process included Group Discussion followed by Personal Interviews. The topics thrown open for the Group Discussion were 'Women Empowerment' and 'The Juvenile Justice Act – Challenges and Opportunities.' On the basis of participation, communication skills, originality and the content of sharing during the Group Discussion six students were shortlisted for the Personal Interview namely – Ms. Nadeen Pakyntein,
Ms. Neelakshi Gohain, Mr. Dipankur Vijoy Saikia, Mr. Edward Daimary, Mr. Joseph Shadap and Mr. Elpius Lyngkhoi.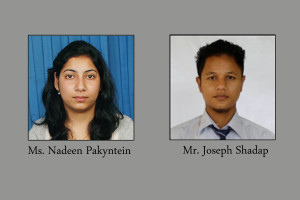 After the Personal interviews of the shortlisted candidates the recruiters expressed their satisfaction with all the six candidates, but had to narrow down to fit into the current requirements. Finally Ms. Nadeen Pakyntein and Mr. Jospeh Shadap were selected and offered the positions of Management Trainee in their projects in India with an annual remuneration of Rs. 3.64 lakhs to begin with. The appointment letters will be issued them on May 6, 2014. They will also be joining SOS for internship in June 2014 in Delhi. The Department of Social Work would like to Congratulations both the candidates and wish them for future. While one campus placement is just over, there are a number of agencies lined up for campus visits for recruitment of our graduating students of Social Work.