The students of Social Sciences Department spent a part of their holidays learning Assamese language skills. The
nine day crash course, from17 to 26 July, ended with a cultural fiesta, 26 July. It was the first time that language skill training was introduced to non-Assamese students.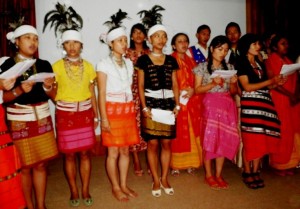 Some 90 first time learners of both first and second year Master of Social Work and Master of Science in Psychological Counselling spent daylong intensive course under the guidance of three language teachers.
Speaking at the valedictory function the Vice Chancellor Fr Stephen Mavely congratulated the students in "going through the language immersion experience."
"We had the initial fear of learning the language… but we overcame that fear with the enthusiasm and dedication of our teacher Dr Archana Goswami," said senior most student Fr Tomy speaking at the concluding ceremony.
Other Assamese language teachers included Ms. Tarali Talukdar and Ms Juri Talukdar.
The Head of the Dept of Social Sciences Dr Riji Sharma coordinated the programme.
The concluding ceremony which lasted 70 minutes consisted of students depicting their native culture through dance and songs.
Besides the colourful Assamese, Boro, Garo, Khasi, and Naga dances and songs there was also a Malayalam devotional song by priest students coming from Orissa & Tripura.
Miss Neelakshi Gohain, second year student of Master of Social Work compered the valedictory function.