A batch of six Assam Don Bosco University (ADBU) Ph.D Scholars presented their research synopsis, 5th July 2014. Of the six presenters (four women and two men), three belonged to Biotechnology department while remaining three belonged to the Departments of Communication, Northeast India Studies, and Social Work.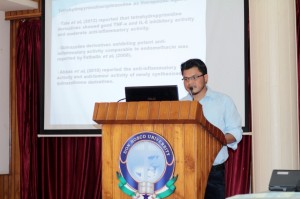 A dominant concern of the researchers with science background was to find new molecules for ant-inflammatory
and cancer treatment. Three of them said that by the year 2020 there would be over 10 million deaths due to cancer.
The first connection between cancer and inflammation was made way back in 1863 by Rudolf Virchow. Since then, scientists hoped if they could eliminate inflammation, they could prevent cancer.
While two researchers try to develop synthetic strategies for hither to unknown anti-inflammatory and anti-cancer molecules using green chemistry methodology, a third scholar is trying to discover new strains from plants that could treat cancer following Dr Hartwell's 1982 invention. She hopes to arrive at a finding that could fight or prevent breast and cervical cancer from the extracts of thousands of medicinal plants that grow in the northeastern region, and still unexplored.
Mr Revinus Nongkynrih made a presentation on "Anti-inflammatory and anti-cancer activities of novel synthetic adamantine-tetrahydropyrimidine /- quinazoline hybrids."
Miss Melboureen Sunn spoke on "Anti-inflammatory and anticancer activities of novel pyrazolopyrimidine derivatives."
Miss Linu John's presentation was on "Evolution of anti-cancer and anti-inflammatory activities of Clerodendrum chinense, Gynura bicolor, and Mazus pumilus."
Dr L. Indira Singh is the guide for the above three scholars.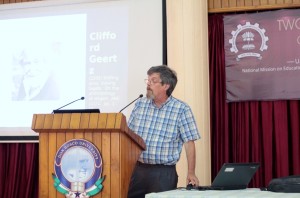 Among the other three scholars from the school of social sciences is Jesuit Fr Michael R Kolb from the department of Northeast India Studies. His topic of study under the guidance of Dr Alphonsus D'Souza is entitled: Attitudes toward traditional religious culture among college educated Dimasas: A pilot study."
Miss Anupa Lahkar Goswami from the department of Mss Communication under the guidance of Dr Paul Pudussery is working on, "Media activism in India's Northeast: A post 1970 comparative study of the print and new media – A reference to Assam."
Miss Kasturee Kakoty from Social Work department under the guidance of Dr Molly Kaniampadickal is working on "A study on the impact of MGNREGA on the socio-economic status of women in Assam."
The Synopsis presentation panelists included, Assam Don Bosco Univeristy Vice Chancellor Dr Stephen Mavely, Research Director Dr J.N. Vishwakarma, and Dr Molly Kaniampadicakl.