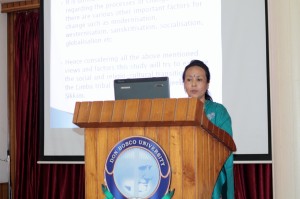 Six PhD Students of Assam Don Bosco University today presented their synopses at Conference Hall at 1:30 pm today.
The afternoon session began with a presentation from Pratibha Sinha (Management) with a synopsis titled, "Adopting innovative measures to improve employees' competence and service quality: an analytical study on Northeast Frontier Railway." Another student from Management Krishna Kumar Thakur presented a synopsis on, "Analytical study on decision making regarding the online purchase of air tickets with special reference to Assam".
The session saw two presentations in Biotechnology studies, Lydia Booney Jyrwa and Raffealla Nongrum, who presented, " A study on
reproductive biology breeding behaviour, biochemical composition and effect of synthetic hormone in induced breeding of Chocolate Mahseer of Meghalaya, India" and " A study on genetic variation using molecular markers, morphometric characters, ultra structure and Gonads and Chromosome among two different species belonging to the Genus: Neolissochilus of Meghalaya, India" respectively.
Two students, Herali Achumi and Sushna Subha, from the department of North East Indian Studies presented 'Tribal chieftainship-continuity and change: a case study of Sumi Naga Tribe' and ' The social and religio-cultural transitions in the Limbu tribal community of Darjeeling and Sikkim (1641-2014): a historical perspective' respectively.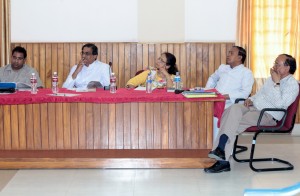 Each presentation ended with commendations and recommendations from the Board of Research.