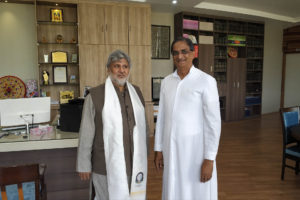 Shri Shishir Kumar Bajoria, Chairman, Board of Governors of IIM Shillong visited the University's Tapesia Campus today, 29th October 2018.
Apart from being the chairman of the Board of Governors of IIM Shillong, Mr Bajoria is the Head of the S K Bajoria Group based at Kolkata, which is engaged in diversified activities including the manufacture of specialised refractories for the steel industry, insurance broking, and third party administration for health insurance.
He is also a past president of the Indian Chamber of Commerce. He has been on the board at Industrial Promotion & Investment Corporation of Orissa Ltd, and West Bengal Industrial Development Corp. Ltd.