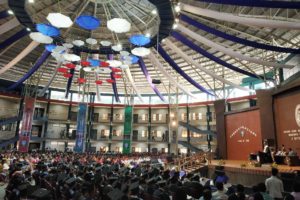 The University on 8th September held its Seventh Convocation at the Atrium of Academic Block II where 766 students were awarded degrees (UG, PG and PhD) in various disciplines.
The event was graced by His Excellency, the Governor of Assam and Visitor to the University Prof. Jagdish Mukhi along with various institutional heads of higher education in India.
Congratulating the graduates, the Vice Chancellor, Fr (Dr) Stephen Mavely said, "This evening is all about you – we celebrate your success in reaching a significant milestone on your journey. Let me wholeheartedly congratulate you all on your achievements. I am sure, you are immensely proud of yourselves on arriving this goal…During your years here, you would have realized that this University has been designed to provide you with the best of ambiance to grow and develop, to blossom into leaders of tomorrow…leaders with a human face, dependable persons, leaders with a vision who leave significant footprints wherever they find themselves, leaders passionate about making a change in the lives of the less privileged".
Extending his best wishes to the graduating students, the Chancellor, Fr. Januarius Sangma said, "I wish and pray that your intellectual acumen and achievements assist you greatly; and may the values you have imbibed here enable you to live your lives as true Bosconians, wherever you are and whatever you do".
In his Presidential Address as the Visitor to the University, the Governor of Assam, Prof. Jagdish Mukhi said, "I am glad to see that social commitment is a way of life here at the University. You embody the hopes and aspiration our country. Today, more than half of India's population are 25 years old. By 2020, India will have the youngest average population of 29 years. Therefore the role of youth will determine the future of our country. In this context, a sustained engagement by you in the economic and social development will shape our country".
The number of graduates from various programmes of study are: B Tech (177), BCA (27),M.Tech (31), MSW (56), MCA (18), MBA (35), Psychology( 20), Mass Communication (7), Education (9), Physics (19), Biochemistry (2), Biotechnology (5)and Microbiology (19). Also 328 students graduated through the Distance Education.
Gold Medals were awarded to 17 graduates with the highest CGPA and the Vice Chancellor's Gold Medal and the Chancellor's Gold Medal for contribution to the campus life were awarded to Sheyashi Das (UG) and Memorial Kharkongor (PG) respectively.
For more photos visit Seventh Convocation Album