A one-day seminar on Strategizing Innovations and Entrepreneurship for Rural Development was organized by the Department of Social Work at Assam Don Bosco University, Conference hall on 20th March 2013. The seminar aimed at consolidating the current innovative and entrepreneurial practices in the field or rural development. In his welcome address Fr. Cyrac the Controller of Examinations, ADBU emphasized on the need to be innovative and entrepreneurial. The Chief Guest Dr. Sunil Saikia Director, IIE, Guwahati shared his rich field visit experiences of entrepreneurship both from within the country and from abroad. The Guest of Honour Eleebon Tariang, Asst. Manager NABARD, Guwahati spoke of entrepreneurship as an empowering agent among the grassroots communities, especially women.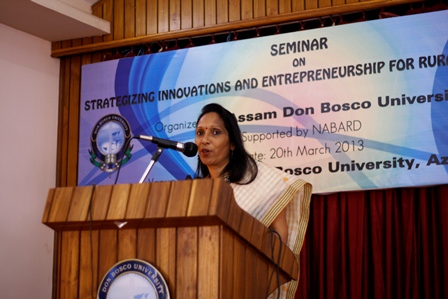 The conference was subdivided into sub-themes of Entrepreneurship in Farm and Non-Farm Sectors, Networking and Marketing for Rural Development, Technology and Entrepreneurship, and Entrepreneurship, Social Work and Social Development.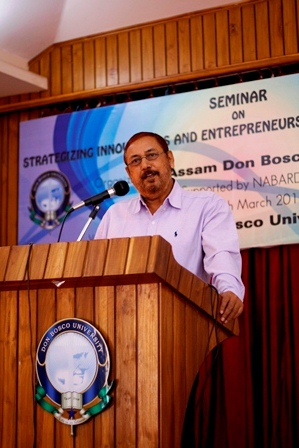 In his keynote address Prof. Satyajit Majumdar, Chairperson of Centre for Social Entrepreneurship, Tata Institute of Social Sciences, Mumbai spoke of the concepts of Strategy, Innovation and Entrepreneurship in the context of rural development. According to him while 'strategy' goes beyond 'ways of doing things', innovation cannot be 'forced' and goes beyond 'rules' and entrepreneurs are 'risk managers' rather than 'risk takers.'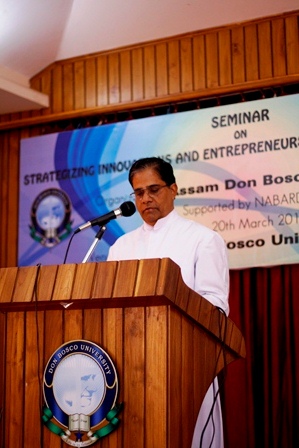 Present at the seminar were panelists Fr. Varghese, Director, Northeast Diocesan Forum, Dr. Kamal K. Saharia HOD, Extension Education, AAU Jorhat, Mr. Dhurbajit Sharma from NRELP, Mr. Pranjal Barua from Mushroom Development Foundation, Dr. Mohan, Senior Scientist, NRC on Pigs, Mr. Anupam Dutta, Senior Faculty, SIRD and Enakshi Dutta,Trustee, the ANT, Chirang.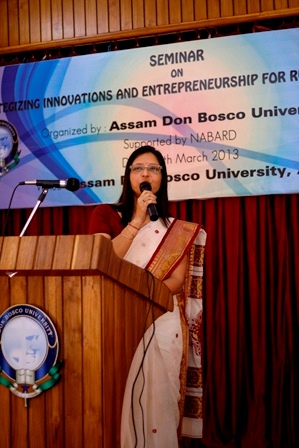 The seminar was supported by NABARD.