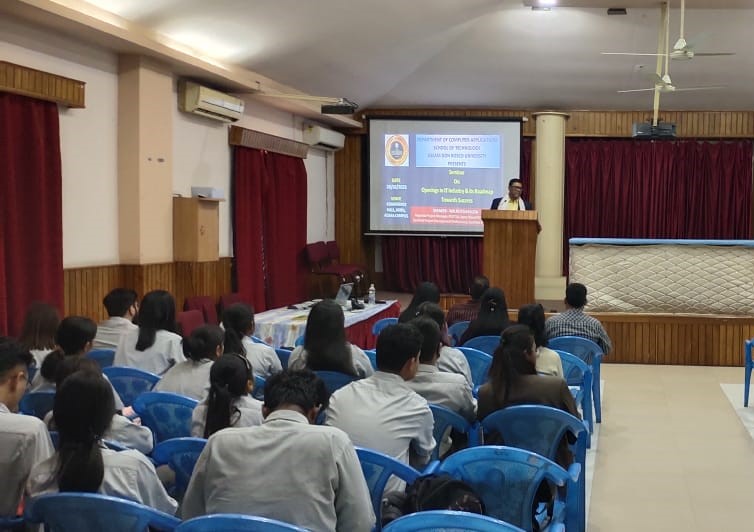 The Department of Computer Applications organized a seminar was on Openings in IT Industry & its Roadmap Towards Success on 20th February 2023.
The objective of the seminar was to highlight job openings in IT industry, identifying job market trends, evaluating one's skills and competencies, gaining knowledge about various IT industries and exploring different career paths in IT. The seminar helped the participant to get an idea for making a roadmap while getting a job in IT industries of regional or international based.
The session began with a welcome address by Dr. Uzzal Sharma, Head, Department of Computer Applications who emphasized the importance of such a seminar and pointed out some strategies that one must take while selecting the right career in IT job market.
The special guest, Mr. Hitesh Kalita, Regional Project Manager, FUJITSU, Japan Based Multi National Company delivered a talk on the Importance of Attitude, Skilling, Upskilling and Reskilling for a fresher in IT industry. He also highlighted a roadmap for working abroad and an action plan that can be made by each participant.
The open discussion as well as questions from different chairs was coordinated by Dr. Gypsi Nandi and Dr. Abhijit Bora. The entire programme was hosted by Dr. Jonti Deuri and carried out the session smoothly. The seminar was also attended by the faculty members, students of School of Technology as well as different online users over Google meet. The session ended with vote of thanks from the chair.