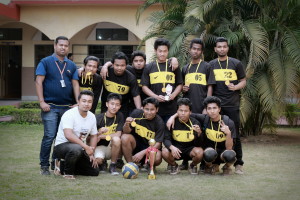 The University's School of Technology Volleyball Team on 26th February 2015 won the Championship trophy at the 3rd NEFTI Inter-College Volleyball Tournament held at RIST Volleyball Court, Khanapara, Guwahati.
The team beat RIST with 2-1 to reached the final where they won the championship trophy by defeating  NIITS-Mirza team in a five-set battle. The School of Technology team took 3 games in a row without losing a single game in the battle for championship.
The team members are: Ranoj Taye, Parthejit Saikia, L.Chameikho, Hirak Jyoti Barman, Adani Kholi, Dharanjay Basumatary, Akashjyoti Patgiri, Sourangajyoti Saikia, Nilatpal Munahary and Mriganka Sarma.
L. Chameikho won the Best Player of the Tournament award.