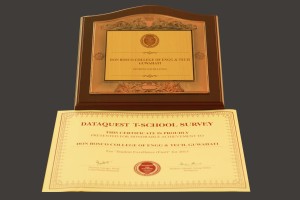 The University's School of Technology has been awarded 'Student Excellence Among Private Institutes in the East Award' by Dataquest at T-School Conference and Award Function held at Jacaranda Hall, India Habitat Center, New Delhi, on 23 September, 2015.
Dataquest T-School Awards are given on the basis of Dataquest-CMR T-School Survey 2015 in which all the leading engineering institutions from all over India participated.
The awards ceremony recognizes excellence amongst technology schools on various parameters including placements, infrastructure, alumni, industry interface, HR scores, academic environment and more. Receiving the award on behalf of the School of Technology was Ms Mumtaz Begum from DBU Global – Online and Distance Learning.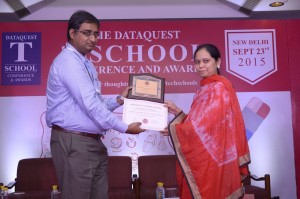 The conference covers technology, skill development and future of education specific to technology schools and brought together IT and Business decision makers of T-Schools and prominent people belonging to the Engineering Education community and the elite of the Indian IT industry under one roof to discuss how technology is aiding education and empowering IT companies around the globe.