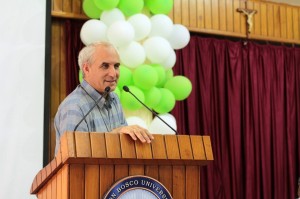 Fr.Guilermo Basanes, General Councilor of the Salesian Missions worldwide made his maiden visit to AssamDonBoscoUniversity, Azara campus, 13 August. He was accompanied by Salesian provincials of Dimapur and Guwahati.
After a brief meeting with the Vice Chancellor Dr Stephen Mavely, Fr Basanes addressed the Post Graduate students of the School of Humanity and Social Sciences. Some 130 students and faculty along with the university officials took part in the hour-long interactive session.
After the introductory words from the Vice Chancellor, the provincial of Guwahati Fr V.M. Thomas introduced Fr Basanes.
During the motivational talk given to eager students, Fr Basanes insisted that "students need to dream to find new solutions."
Fr Basanes urged students to be "creative minorities that provide solutions, stating that university students belonged to that privileged minority."
He warned students of the dangers of thinking differently, and explained that only "dangerous people can think differently for peace and creative solutions." Fr Basanes was recalling the courage of 19 year old Israeli air force pilot and his companions who were jailed for refusing to fly jets to bomb Palestinians in the ongoing war.
Fr Basanes further encouraged the students "to be the active and creative minority and to be the agents of a globalization of solidarity."
After fielding questions from the audience, Fr Basanes shook hands with all students and faculty, before taking a quick lunch and leaving for the airport.
Fr. Basanes was born in Washington (USA) to Argentinean parents and had his initial Salesian training in Argentina before venturing into the African Mission of Angola. Over two decades of missionary life in Africa he served the Salesian missions in various capacities. He was the Provincial of Angola before being elected as the Regional Superior of the Africa-Madagascar in-charge of 38 countries. He was elected as the Mission Superior for the Salesian Missions worldwide in a recently concluded General chapter in April 2014.