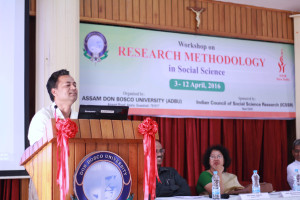 The University held a 10 day Research Methodology Workshop at Azara campus on from 3-12 April 2016. The workshop, organized by the School of Humanities and Social Sciences and Sponsored by Indian Council of Social Science Research, New Delhi saw 18 resource persons and 30 research scholars participating from 20 universities across the country.
In his keynote speech chief guest of the inaugural programme Prof. V.K. Srivastava, Head, Department of Anthropology, Delhi University underlined the need for "scientific honesty and rigour to be ensured in research undertakings."
Prof. Srivastava bemoaned "the plague of plagiarism" that has surfaced in the recent past dragging very senior and reputed academicians into great embarrassment in academic circles.
"The workshop aimed at building the competency in the participants to understand the meaning and objectives of research in the Social Sciences while introducing various methods, techniques and strategies for research in social sciences, humanities and communication studies," said Coordinator of the workshop and Head of Dept. of Mass Communication, Dr Machun Kamei.
There were 31 participants representing Rajiv Gandhi University, Arunachal Pradesh, Aligarh Muslim University, Aligarh; Babasaheb Bhimrao Ambedkar University, Lucknow; Central University of Gujarat; Gauhati University, Assam agricultural University, Jorhat; International Institute for Population Sciences, Mumbai; Banaras Hindu University, Varanasi; Guru Ghasidas Vishwavidyalaya, Bilaspur; Bharathidasan University, Tiruchirappalli; Mahatma Gandhi Antarrashtriya Hindi VishwaVidyalaya, Wardha; Patna University; North-Eastern Hill University, Shillong; Assam Don Bosco University, Guwahati; Nagaland University, Kohima and Sikkim University, Gangtok.
Prof. Mini Bhattacharyya, Head, Department of Anthropology ,Gauhati University is the ICSSR Workshop Observer.
Dr. Upendra Choudhury, Director, ICSSR, New Delhi was the Guest of Honor at the valedictory function on April 12. He also conducted sessions on Social Science Funding Opportunities in ICSSR and How to Write a Good Research Proposal (from ICSSR Perspective).