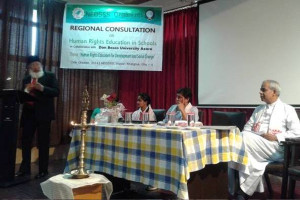 The Universitys MSW department teamed up with North Eastern Diocesan Social Service Society (NEDSSS) for a Regional Consultation on Human Rights Education in Schools, with the theme 'Human Rights Education for Development and Social Change.'
The consultation held at NEDSSS Conference Hall on 24th October had the objective to bring together some 90 participants representing policy makers, school principals, teachers, professors, NGO members, students, human rights activists, lawyers, and right based organizations.
The organizing team consisted of Dr. Riju Sharma and Fr. Jose Karipadam of ADBU and Fr. Varghese Velickakam Director, NEDSF and Sr. Prema, Chief Coordinator of NEDSF.
Mr.Bablu Loitongham, Director, Human Rights Alerts, Imphal delivered the Key note address on the occasion.
Among the speakers were Director of Legal Cell for Human Rights Guwahati Fr. Ravisagar who spoke on 'Legal Provisions and Policy Frame Work' of human rights.
The Rector of Oriens Theological College Shillong Fr. Linus Nelli addressed the gathering on 'Human Rights Education for Development and Change'.
Justice Dr. Aftab Hussain Saikia, the chief guest, spoke about how fundamental rights and duties were included in the Constitution of the country but not exercised and practiced in reality and reasoned that such situations necessitates the introduction of human rights education in schools to lay the foundations of  human rights values in the minds of the young generation.
The guest of honour Archbishop John Moolachira of Guwahati, emphasized on the social teaching of the Church in making way for human rights in education.
'Human rights provide a standard of behaviour in the family and in the wider world' said director of Northeastern Diocesan Social Forum Fr. Varghese in his welcome address.
The head of ADBU Social Work Department Dr Riju Sharma believes, "Human Rights education contributes to the realization of human rights and hence its introduction in schools would infuse the culture and practice of it in the classroom and school environment."
Fr. Paul Pudusery, Head of ADBU's Education Department spoke on the 'Pedagogy of Human Rights Education.'