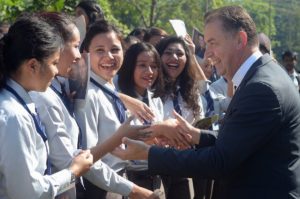 The University today received with love, Fr. Angel Fernandez Artime, Rector Major of Salesians of Don Bosco (the 10th Successor of Don Bosco) at Tapesia Campus.
Welcoming Fr. Artime among our midst and inviting him to bless the newly erected bust of Don Bosco, the Vice Chancellor Fr. Stephen Mavely expressed the University's heartfelt gratitude to the Rector Major for his ardent support for the development of Don Bosco University in the North Eastern part of India. He also explained how the dream of Don Bosco has been carried on by his followers as Fr Artime blessed the bust which sits above a plague that simply reads 'To Don Bosco – the Dreamer'.
Interacting with the students and faculty of the University, Fr. Artime explained the beauty of the mosaic of cultures and beliefs, saying, "No matter where we come from, no matter what or how we worship, in the end, we are human beings sharing and living in the same world, and the secret of achieving peace in the world is to respect each other's beliefs and religions". Answering questions from the students, he shared how his humble beginning from a small town in Spain, a fishing community, helps him interact and work effectively with the less privileged people. While touching the subject on a connected world through social network, he urged the students not to lose in touch with the real world. Expressing his deep gratitude to the warm welcome, he said, "You stole my heart; if you are like this every day, I could stay with you forever".
This is his maiden visit to the University, and he was accompanied by Fr. Arokiam Kanaga,
General Councilor, Don Bosco Society, South Asia and Fr. Thomas Vattathara, Chancellor, Assam Don
Bosco University.
Before he left, Fr Artime picked up a guitar and serenaded the gathering with Mexican songs to the wonder and joy of the students and staffs who broke into dancing to the beautiful tone and catchy tunes.
This day will linger in the memories of Don Bosco University as the day 'Don Bosco' comes to life, to show us how to live by our motto 'carpe diem'; how to seize the day…through his successor Fr. Angel Fernandez Artime. Gracias!
For more photos visit our facebook page