On the occasion of the solemn inauguration of the academic year 2013-2014 DBCET (Don Bosco College of Engineering and Technology) at Guwahati honoured its meritorious students for the academic year 2012-2013. Seventeen students who secured above 8 SGPA (Semester Grade Point Average) were recognized for their academic excellence in the presence of students and parents of freshers.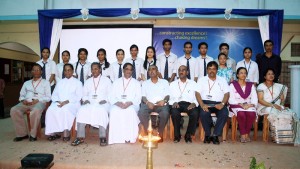 Six awards went to four Masters Departments of Social Sciences and Technology namely Social Work, Psychological Counseling, Computer Application, and Technology. Eleven awards went to three B Tech Departments with four disciplines (Computer Science Engineering, Civil Engineering, Electrical and Electronics Engineering, and Electrical & Communication Engineering). Among the Masters program award winners from 2nd semester were: Elpius Lyngkhoi of MSW, Marbanylla Lyngdoh of MPC, Nasrin Ara Rahman of MCA, Gitimoni Talukdar of CSE and Sandhyabanti Dutta Borah of ECE. From 4th semester of MCA Manikangkana Kalita of ECE bagged the award. The B Tech second
semester award winners included Banashree Paul of CSE, Ankita Patowary of CVE, Aditya Upadhyaya of EEE and Mousumi Das of ECE. Among B. Tech fourth semester award winners were Prerana Das of CSE, Dipankar Saikia of CVE, Arup Dey of EEE and Darsana Bordoloi of ECE. The B. Tech sixth semester award winners were Sumit Kumar Jha of CSE, Plabita Kalita of EEE and Dipankar Medhi of ECE. The chief guest at the inaugural function, Principal Secretary, Education Dept, Govt of Assam Mr H.K. Sharma IAS felicitated the winners and handed over their cash awards.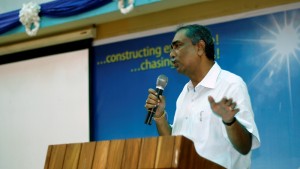 Addressing the gathering Mr Sharma appealed to students, especially the freshers "for God's sake don't waste your time." He also encouraged the students to keep their
mind "on analysis and research." Complimenting the students of Social Sciences Mr Sharma stressed "there is urgent need social sciences, particularly social workers and psychological counselors."