Over 50 second semester students of Master of Social Work presented ten social issues through puppet show at Parijat Academy Pamohi near Garchuk, Guwahati, on 7th February 2015.
The students had created scripts and made their own puppet characters in a two day workshop conducted by Mass Communication faculty Mr Kaushik Bhuyan.
The hand held puppets were made of socks and cloth fillings.
Puppet show which lasted about 90 minutes included themes like hygiene, caste system, road safety, child marriage, importance of education of the girl child, peer pressure, domestic violence, substance abuse, and sexual harassment at work place.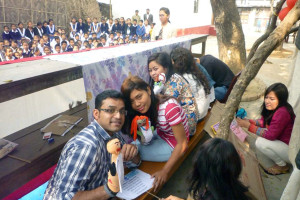 The poor literacy rate of children of Pamohi village and neighbouring villages gave rise to Parajit Academy a cluster of small constructions for the  less privileged children. Started in 2003, the school is run by Mr Uttam Teron, a social worker affectionately known as Uttambhai.
The poor tribal women of the area supplement their meagre family income by selling home-made fermented rice beer which leads to a host of problems for these already poor families.
Mr Teron hopes, "by educating these children about social evils, they will be able to pursue alternative means of generating a livelihood and cause social up-lift of the nearby villages."
Faculty members Victor Nazary and Jacob Islary accompanied MSW students.
Parijat (in Assamese means heavenly flower) Academy is a school for children of families with low income, living in Pamohi and three adjoining tribal hamlets on the outskirts of Assams capital Dispur.