The 3-day annual Technofest known as Prajyukttam started off with a morning Marathon run from Don Bosco Pan Bazaar to Don Bosco Maligaon, an 8.3 km distance, 18 September. Over 400 students participated at the event flagged off by Mr Universe 2009 Mr. Mahadev Deka, a body builder and an Engineer.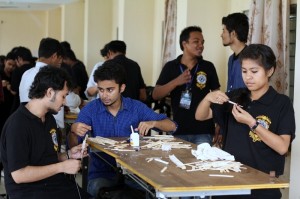 Principal of DBCET Prof. Manoranjan Kalita spoke on the Marathon theme "Run for Techno – Entrepreneurship Development in North- East India." Present at the event were ADBU Registrar and Administrator.
Later in the morning, the official inauguration of the Prajyukttam started with lighting of the ceremonial lamp by Ajay Chatiya the student President of Prajyukttam along with Registrar and Controller of Examinations.
Eminent Assamese Entrepreneur Mr Agar Verma the Chief Guest at the programme encouraged students saying, "technology should be taken as an art."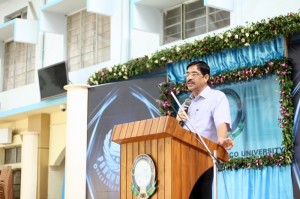 Besides the regular 20 plus events at the annual fest spread over three days, this year marked the launch of Mass Communication Department with SmartFilm Competition on the theme "Campus Life." There were 15 entries for the competition though only 11 groups managed to submit their video productions.
The Mass Communication department which organised the competition was
"We are surprised at the overwhelming participation at the event where contestants had to shoot only with smart phone and edit with Free Open Source Software," says HoD, Mass Communication, Fr C.M. Paul.
Even though only five films qualified for the competition, all 11 films were screened and prices worth Rs.10,000 were distributed including a special prize for the film judged best by the audience. Incidentally, both the jury and audience decisions coincided.
The  3-day event concluded with a 4-hour program which featured prize distribution laced with dance and musical performances capping  the evening with a DJ Night.