Heres an opportunity to give acceleration to your innovative ideas and turn them into an endeavor to benefit the Base of Pyramid (BoP) population and reach the unreached. Personally I feel that the process of funding and supporting is very transparent and fast.
cialis online
,
cialis online
,
buy viagra
,
cialis online
,
buy viagra
,
buy cialis
,
generic viagra
,
cialis price
,
cialis cost
,
viagra price
,
buy viagra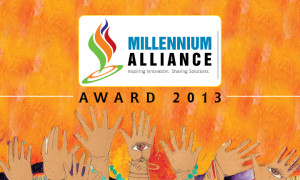 An India – U.S. Innovation Partnership for Global Development is providign a
platform to leverage Indian creativity, expertise, and resources to identify and scale innovative solutions being developed and tested in India to address development challenges that will benefit base of the pyramid populations across India and the world.
The Millennium Alliance (MA) is a network to bring together various actors within India's social innovation ecosystem including, but not limited to, social innovators, philanthropy organizations, social venture capitalists, angel investors, donors, service providers, and corporate foundations,
to stimulate and facilitate financial contributions from the private and public sectors and offer a range of support to innovators.
Under FICCI's leadership and in partnership with United States Agency for International Development (USAID) and the Technology Development Board (TDB), and other MA partners, the Alliance will provide innovators with services such as seed funding, grants, incubation and accelerator services, networking opportunities, business support services, knowledge exchange, and technical assistance, and will facilitate access to equity, debt, and other capital.
Through the Millennium Alliance, USAID, FICCI, TDB, and other partners, will help realize India's role as a global innovation laboratory.
Please note the last date to apply is 10th November, 2013.
For details visit: http://www.millenniumalliance.in