The recruitment season began with a strong promise as students secured job offers at the very beginning of this Academic Year. With the change in the political landscape of the country, India Inc is showing positive signs in general. The recruitment scenario has picked up pace in the recent times. The effect is definitely visible within our campus.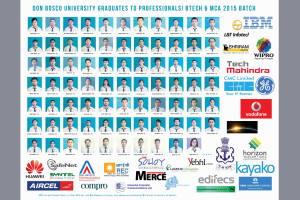 The Campus Placements Statistics is going very well with increased number of companies visiting as well as more number of candidates securing job offers.  The poster includes a list of BTECH and MCA students who secured job offers.
This Placement Report is as of April 2015 and the number will rise with more companies to conduct Campus Recruitment in the coming months.
Our expectations are soaring with respect to the response from India Inc, as we believe that, "Where there are Quality Students, There are Quality Recruitments".
The University congratulates those who have already secured job offers and wishes best of luck to those who are yet to secure the same.