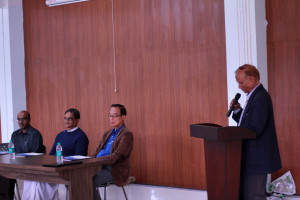 This year's batch of Research Scholars started their 6 months coursework yesterday and a formal inauguration programme was held this morning, 4th April 2017 at Crystal Hall, Tapesia Campus, with a prayer from Dr. Peter Paul Hauhnar, Administrative Officer.
Welcoming the new batch of 24 scholars Prof. Basil Koikara, Registrar urged the scholars to seriously question themselves 'why they want to join the PhD Programme' and reminded everyone that the 'reason laid down in the Prospectus' is 'to undertake research which leads to a contribution to the body of existing knowledge characterised either by the discovery of new facts, solution of unsolved problems, development of new techniques or by reinterpretation of known facts or new solutions to problems. Further, he urged them 'to ensure that this journey we are starting will be about genuine research which will lead us to contribution to the body of knowledge in various disciplines.
The Vice Chancellor, Fr. (Dr) Stephen Mavely in his keynote address said, "From day one, think about, look out for, reflect upon what is it that will keep you glued to an area of study that will perhaps change your life style and habits for the next two to three years… When you find, you will find that you are embarking on an exciting adventure… Here, at Don Bosco, we believe that research is hard work, serious work, systematic work, and sustained work… Prof Vishwakarma, our Director Research, and the members of the Board of Research Studies, will be with you, mentoring you and closely following upon your progress. THAT is a given – you will get all the support you will need… The rest depends on you…"
At present, there are 257 scholars doing research in 18 areas.