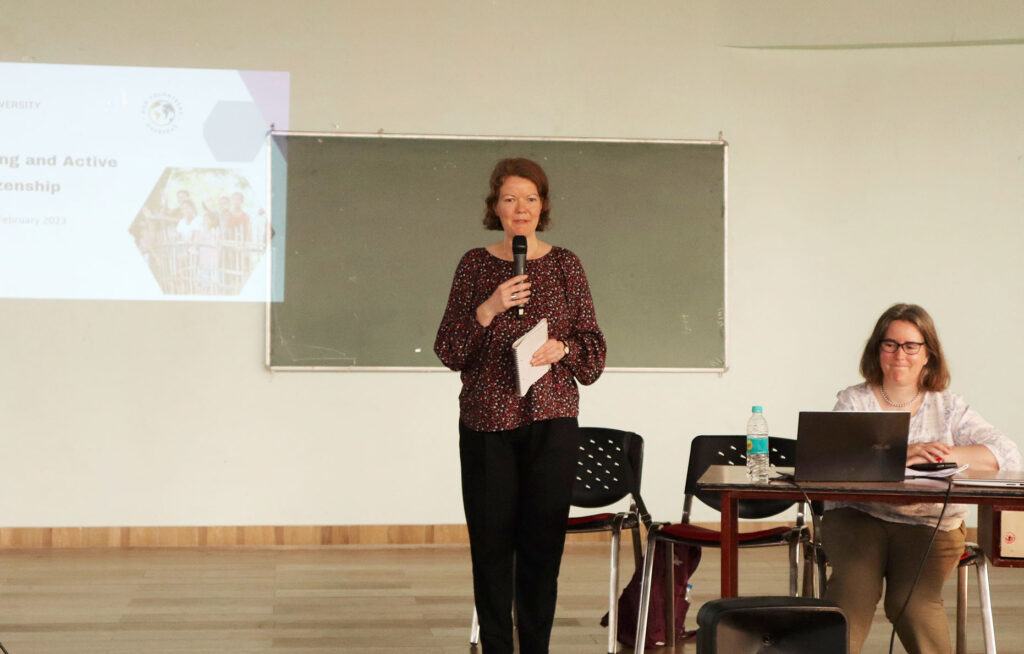 The Department of Education in collaboration with the Department of Public Administration, organised a session on 'Orientation on Volunteerism' in association with University College Dublin Volunteers Overseas (UCDVO), Dublin, Ireland on 23rd February 2023 at Tapesia Campus.
The key speakers were Dr. Hilary Minch, Manager, UCDVO and Rachel Cosgrove, Team Leader and Secretary, UCDVO Board of Trustees. The objective of the orientation was to acquaint the students to UCDVO volunteerism, its prospects, and opportunities for an engaged global citizenship education, addressing issues related to sustainable development goals through responsible and participatory community engagement thereby promoting global consciousness.
Dr. Minch outlined the program's schedule and asked a few questions to ascertain the students' fundamental understanding of volunteering and also shared the vision and mission of UCDVO. The vision is to transform learning and turn learners/volunteers into responsible citizens through training. The mission is to work towards a fair and sustainable world. A video which was done in 4 weeks across villages in India along with an introduction video of UCDVO was projected. A quiz was held during the session using Mentimeter and students participated actively. She discussed about their work in the past which includes – refurbishing 27 Anganwadis, training of 50 Anganwadi workers and helpers with students from UCDVO and ADBU.
Ms Cosgrove highlighted her experience of volunteering, meeting people from different cultures. Ms Hazel Wahlang, Field Coordinator, St. Edmund's College conducted an interactive session and shared her experiences of working in the community as a student as well as a Team Leader in the past while being a student at ADBU. She showcased Community Engagement initiatives carried out in 22 villages including renovation of 27 anganwadi centres, preparation of grassroot comics, repairing water sources, establishing an e-Learning centre for the students of the villages, setting up 15 computers in 2018 in the ADBU campus. So far, 56 students accessed the facility.
A total of 51 students with the faculty members from both the Departments attended the programme. The programme was coordinated by Ms Alinisha Boro, Service Learning Coordinator, ADBU and Dr. Ranjita Chanda, Assistant Professor, Department of Education.