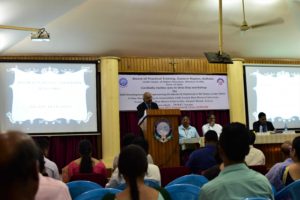 Board of Practical Training (BoPT), Eastern Region, Kolkata organized a one day meeting on Skill Development for Engineering (Graduate and Diploma) in NE states under National Apprenticeship Training Scheme (NATS) at the University's Conference Hall, Azara Campus on 29th August, 2017.
The main objective of this Industry-academia meeting was to bring together the stakeholders, viz., the alumni, Institutions and the Establishments/Oganisations fraternity of Northeast, to interact with each other regarding the present day requirement of industries and facilities available through NATS for achieving the dream of developed India through skill development.
Dignitaries from various establishments have participated from various Public and Private Sectors as well as from the educational institutions. The Chairman of Board of Practical Training (BoPT) Sri Sandipan Chakraborty, Director of BoPT (Eastern Region, Kolkata) Mr. S.M. Ejaz Ahmed, Vice Chancellor of Assam Don Bosco University (ADBU) Fr. (Dr.) Stephen Mavely and Director of School of Technology of ADBU Prof. Manoranjan Kalita were the dignitaries present on the dais during the first half of the workshop. Chairman of BoPT Sri Chakraborty mentioned in his inaugural address that 70 percent of the engineers graduating from the institutions in India are unemployable, primarily because of lack of practical skills. He added that the government of India came up with the idea of setting up of the board (BoPT) primarily to give chance to the engineering students to acquire skills through Apprenticeship in various industries, after their degrees and diploma.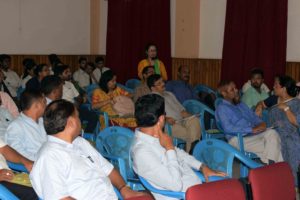 Fr.(Dr) Stephen Mavely, in his address informed that the University has been providing soft skills training apart from the curriculum to all its graduates. He expressed his thankfulness to BoPT for taking the responsibility of practically training the Engineering students of the whole region.
The Director of BoPT, Mr. Ahmed spoke about the benefits of Apprenticeship to both the students and the industry. He mentioned about the online portal of BoPT that is available for industry, students as well as the institutions. In his speech he mentioned about a number of large developmental projects of the central and state governments coming up in the region, which will require skilled manpower.
Ms. Sushmita Ghosh, the Additional Director of BoPT and Mr. Abhijit Bhagawati, the OSD, BoPT for North Eastern Region took initiative in inviting the industry personnel to the dais for expressing their ideas to make the Apprenticeship training programmes more popular and effective in the region.
The following representatives from various industries, organizations and institutions attended the programme- Mr. Jadu Ram Gogoi from Hindustan Paper Corporation Ltd., Ms. Sangeeta Chakraborty from Tool Room and Training Centre, Anirudha Kalita from The Assam Cooperative Jute Mills Ltd., Mr. Fazlur Rahman Laskar from Oil India Ltd., Mr. K.K. Nagle and Mr. Khagendra Bora from NERFMTTI, Mr. Mrinal Nath from Nowgong Polytechnic, Ms. Nita Adhikari from CG Foods, Mr. K.K. Saha from TRTC, Mr. R.S. Prasad, Ms. Sita Barua and Mr. Pradyut Dihingia from IOCL, Mr. T. Simta and Mr. I. Kulajit Singh from DDK, Imphal, Mr. R.K. Pancham Singh and Mr. R. Choudhury from Assam Petrochemicals Ltd., Ms. Rubi Gogoi Kagti from PCPS Girls Polytechnic, Mr. L. Pradeep Kumar and Ms. Nilakshi Konwar from HPC Ltd., Ms. F.S. Haque from OIL Duliajan, Dr. Indrani Gogoi from the Directorate of Technical Education, Mr. Ashish Barua from NRL, Mr. Pranab Kr. Goswami from DDK, Guwahati, Dr. Rajesh Kumar from NERIST, Mr. Manjit Medhi from IOCL, Bongaigaon, Capt. P.K. Barua from AICTE, Mr. Utpal Chakraborty, IOCL, Guwahati and Mr. Pankaj Kr. Gogoi from BVFCL.
The workshop was also attended by a number of faculty members and students of the University.