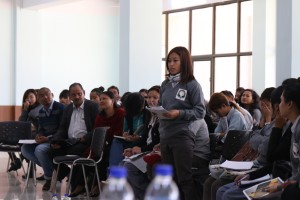 A one day NGO Consultation on 'Harnessing the Potentials of Fieldwork in Social Work Education' was organized by the Department of Social Work on 2nd February 2017 at Crystal Hall, Tapesia Campus.
Welcoming the representatives from 13 NGOs and student participants, the Vice Chancellor Fr. (Dr) Stephen Mavely emphasized the importance of the three dimensions of social work, saying, " In social work, there is evidently, study and research as it is an academic discipline leading to the formation of the mind. Then, there is immersion and involvement – this is where the heart and emotions are touched. And lastly, there is the meeting and the reflection – this is where the spirit and soul are involved. All three dimensions are important if one is to be an informed, involved and effective social worker".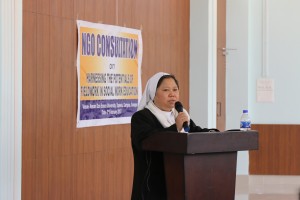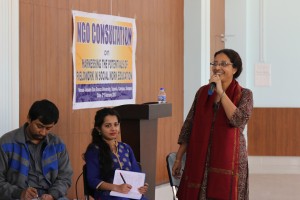 This one day consultation programme aimed at sharing and learning the expectations of students and NGO's from field works so as to develop a better relationship with the partner NGOs.
Speaking on the importance of fieldwork, the Registrar, Dr. Basil Koikara said, "To be effective, the master of social work program should be an optimal blend of theory and practice. While remaining rooted in the principles of sociology, anthropology, political science and economics and the theories of social work, the MSW program should also provide opportunity to students to practice what they learn in the classroom to the fieldwork and this is the essence of Social Work. Fieldwork gives firsthand experience in translating theories and principle into practice while helping students to choose and fine tune the areas that they want to focus on and career that interests them".
Other speakers included Mr. Bibhuti Bhusan Gadanayak, State DRR Coordinator, UNICEF Assam Field Office, who spoke on 'The Present Trends and Challenges for Social Work and the Proposed Response"; Fr. Thadeus Kujur, Snehalaya spoke on 'Expectations from the Social Work Students"; Sr. Rose Paite spoke on 'Potentials of Fieldwork in Social Work Education'; and Mr Nibahun Diengdoh spoke on 'Expectations of the Social Work Students".
A lively and interactive Plenary Session was also held where participants share their experiences and expectations.