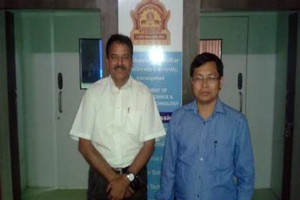 Dr Y. Jayanta Singh, Head of Dept.,Computer Science & Engineering and I.T, ADBU visited  Dr. B. A . Marathwada University, Aurangabad, Maharashtra on 12 April 2014 and interacted with Dr. K. V. Kale, Head of Department and other members of Department of Computer Science and I.T.
During his visit Dr. Jayanta also had discussions with Dr.S.C. Mehrotra, Chair Professor (Srinivasa Ramanujan Geospatial) and Dr. Vikas Humbe, Asst. Prof. of SRTM University, Nanded, who too are working in the same domain.
There are two well set up significant labs at Aurangabad, established under SAP(UCG) and DST costing above 3 crores, namely: Geo Spatial Technology Research Lab, and Multimodal Biometrics Research Lab.
There are five domains in which the department is executing sponsored projects:  Geo Spatial and Remote Sensing, Biometrics Research, GIS, Advanced Image Processing, and Video and Medical Image Processing.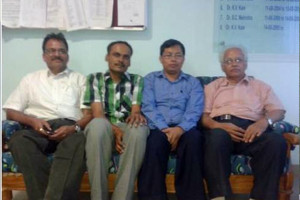 Dr. Kale is ready to provide free lab facility to Assam Don Bosco University students for executing their projects. Currently, there are around 20 project fellows working under his guidance.
Both teams agreed to plan and execute possible joint research in the areas mentioned above, provide guidance to students projects in M. Tech and Ph D studies, and deliver a series of 'live talks' on their expertise areas (through Skype or A-view or other medium).
"This meeting will support the research students. Definitely, both the Departments will benefit by exchanging innovative thoughts. Soon an MoU will be signed between both the parties," says Dr. Jayanta Singh.