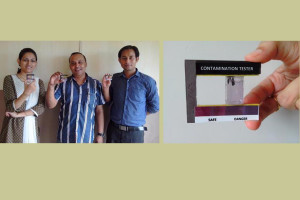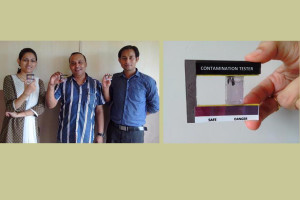 Two Assam Don Bosco University Researchers of the Electronics and Communication Engineering (ECE) Department at Don Bosco College of Engineering and Technology (DBCET) have developed an on-the-spot water contamination sensor that can assess whether the amount of metal ions present in water is in the range that is safe for human consumption.
According to Dr. Sunandan Baruah, Head of the ECE Department and also the Group Leader of the Nanotechnology group "the sensor works on the principle of Surface Plasmon Resonance (SPR) and a change in the concentration of metal contaminants shifts the SPR peak and the sensing solution changes colour".
The sensing solution consists of metal nanoparticles coated with a polymer. The sensor can be used for on the spot detection of metal contaminants which are harmful to humans and the eco-system above a certain concentration.
The estimated cost of the sensor is less than Rs.10.00 and as such can be a use-and-throw device. "We have been able to detect metals like copper, zinc, and others to concentrations as low as 2 parts per million (ppm) which is below the danger limit for human consumption" informs Mrs. Sandhyabanti Dutta Bora who developed the sensor as her MTech project under the guidance of Dr. Sunandan Baruah.
The design, testing and fabrication of the sensor were carried out by Mrs. Sandhyabanti Dutta Bora and Mr. Arup Bora under the guidance of Dr. Sunandan Baruah.
The researchers are now concentrating on developing
an opto-electronic version of the sensor along with Dr. Waleed Soliman of Bangkok University, which will be able to exactly specify the concentration of different metal contaminants in drinking water.