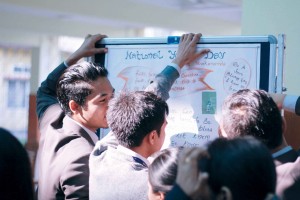 12th Jan 2016 marked the 153rd Birth Anniversary of Swami Vivekananda, the celebrated patriot of India and this day is celebrated all over India as the National Youth Day. In commemoration of this event, the Universitys School of Technology paid a humble tribute to Swami Vivekananda by holding a special assembly in his fond remembrance.
The assembly began with a short speech on the life and teachings of Swami Vivekananda by Asst. Prof. Nabamita Das. Speaking on the contribution of this social reformer, thinker, Ms. Nabamita said, "Vivekananda believed in education by which character is formed…strength of mind if increased, the intellect is expanded and by which one can stand on one's own feet".
This was followed by readings from the Complete Works of Swami Vivekananda by the students of the School of Technology – Chinmoyee Neog and Abhijit Talukdar.
The assembly ended with rendering of a devotional song – Man Mei Takat…Dil Mein Himmat by Senior Asst. Prof. Bikramjit Goswami.
The students from the School of Life Sciences displayed poster presentations on the life and contributions of Swami Vivekananda in the School of Technology's atrium.