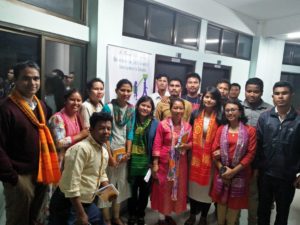 The Department of Social Work organised its first national workshop series on Understanding Child Growth and Development in Schools for school teachers on 1-2 March 2018. The workshop package aims at 'enhancing the effectiveness of a school as an institution of education through strengthening the capacity and ability of school teachers by understanding the child in the context of society, polity, economics, culture, physical, psychological, and special needs, thus making the teaching – learning process effective and child friendly within schools in relation to larger socio-cultural milieu' according to Mr. Jacob Islary, the programme coordinator.
The workshop covers the following modules: Child – Society, Polity, Economy and Culture; Child – Education and Methodology of Education; Child – Sex, Gender and Gender Roles; Child – Growth and Development: Physical, Psychological, Social, and Special Need; Child – Rights in the context of education and discipline.
Speaking on the occasion, Dr. Riju Sharma, Director SHSS, ADBU emphasised 'on the importance of understanding the child in the context of his or her location, background and orientation by teachers in the process of education.'
The first workshop was attended by the teachers of St. John Bosco School, Patgaon in Kokrajhar. The School has a wide pool of teachers from the states of Assam, Odisha, Sikkim and West Bengal. It has a strength of 368 students from class I to X, and 22 staff members. Majority of the students come from families and villages that have been victims of ethnic conflict and violence of lower Assam.