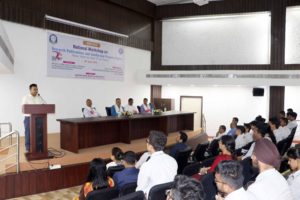 The IPR Cell at Assam Don Bosco University under the aegis of the Board for Research, Innovation and Consultancy, ADBU in association with Patent Information Center, Assam Science Technology and Environment Council, Govt. of Assam organized a One day National Workshop on Research Publication and Intellectual Property Rights (WIPD 2019) on 26th April, 2019 at Tapesia Campus.
The workshop brought together the UG, PG and Doctoral students from universities and Colleges to provide an in-depth knowledge in the fields of IPR and research publications.
Addressing the gathering at the inaugural session, Dr. Arup Kumar Misra, Director, Assam Science Technology & Environment Council, Government of Assam spoke on the importance of innovation, saying, "Innovation does not mean re-inventing the wheel, but, using the wheel for the best purpose". He also told the story of Uddhab Bharali, an Indian inventor from the Lakhimpur district of Assam who is credited with about 118 innovations and how he contributed in changing the lives of common man with his inventions. "You may go for rocket science and contribute in that area, but, try to go for the kind of science that changes the life of millions of people" he added.
The Vice Chancellor, Fr. Stephen Mavely reiterated the University's commitment to 'research with social relevance' and that a number of innovations that have come out from research at the University address the need of the common people. He added that 'for such kind of research and innovation, sophisticated instruments and laboratories are not a necessity'. He encouraged the participants in this line saying, "Think of what you can do to bring about real changes in your society".
The workshop had sessions on ' Research Publication: An Introduction' by Prof. JN Vishwakarma, Director of Research at the University; 'How to write a good research paper' by Dr. Hridoy Jyoti Mahanta; 'Selecting the Right Journal' by Dr. Sunandan Baruah, Director, Center of Excellence in Nanotechnology, DBU; 'Publication Standards: Impact factor, h index, i10 index, citations etc' by Dr. Samrat Dey, HoD, Department of Physics; Plagiarism, Tools for Plagiarism Checking and Proofreading by Dr. Vikramjit Kakati, Associate Professor, Department of Civil Engineering, DBU; 'Funding your Research by Dr. Uzzal, 'IPR: Patent and Copyright' by representatives from ASTEC and Competition on Innovation and IP.