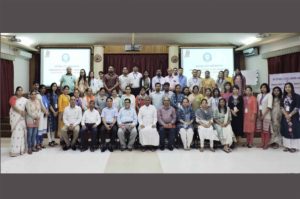 A two-day national workshop on "Pedagogy for 21st Century Teaching and Research" was held from 12-13 May, 2019 at the Azara Campus of Assam Don Bosco University.
The key objective of the workshop was to provide an opportunity to the educators of Higher Education Institutions (HEIs) of the region to re-visit their roles and re-define their teaching frameworks, make efforts towards adapting to the 21st century teaching methodologies, curriculum design and evaluation, and basic research skills for effective teaching-learning process. The workshop was organised by the Internal Quality and Assurance Cell (IQAC) of the University in collaboration with National Assessment and Accreditation Council (NAAC) as academic partner.
The resource persons for the workshop were Prof. P.K. Acharya, Department of Education, Rajiv Gandhi University (RGU), Itanagar; Prof. T. Lunghdim, Department of Education, RGU, Itanagar; Prof. K.C. Kapoor, Department of Education, ADBU; and Dr. John Jose, Assistant Professor, Department of Computer Science and Engineering, IIT-Guwahati.
Addressing the gathering at the inaugural session, Fr. Joseph Nellanatt, Pro-VC, ADBU said. "21st century skills are more important to teachers as well as students now than ever before. They not only provide a framework for successful learning in the classroom, but ensure students can thrive in a world where change is constant and learning never stops. They are also tremendously important for our nation's well-being."
It had a good balance of lecture sessions, experience sharing sessions and hands-on training sessions that gave insight into the areas of outcome based education model, student-centric effective teaching methodologies and learning designs, research and academic writing skills, curriculum design, and modern schemes of evaluation. 57 educators from across the country participated in the workshop.