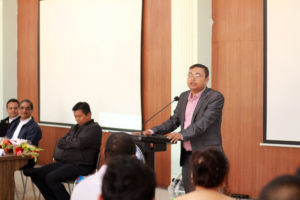 A one day National Symposium was organized by the School of Life Sciences, Assam Don Bosco University (Tapesia Campus) on 'Recent Trends in Nanobiology' on 9th February 2018.
The symposium was conducted with an aim to provide the students of Life Sciences with a platform to attend lectures and discuss the various applications in the field of Nanoscience and Life Sciences, thus enhancing and widening their understanding.
The invited speakers who were a part of this initiative were:
Samrat Paul, Head, Department of Energy Engineering, North-Eastern Hill University spoke on 'Application of nanomaterials in Bioenergy and Biofuel' wherein he spoke of the various way in which nanomaterials are being used and can be used to tackle the issues of biofuel production.
Sunandan Baruah, Director, Centre of Excellence in Nanotechnology and Professor, Department of Electronics and Communication, Assam Don Bosco University enlightened the students on the topic 'Nanomaterials for Biological applications' which helped students further comprehend the wide application nanomaterials are in use in our day to day life.
Probin Phanjom, Assistant Professor, Department of Microbiology, School of Life Sciences, Assam Don Bosco University spoke on the technical aspects on the 'Biosynthesis of Silver Nanoparticle using Fungus' in a manner that can be helpful for all to start with the process of nanoparticle synthesis.
The invited speakers not only answered queries by the participants but ensured to help the participants in their endeavours.
Poster presentation was held on the theme of Nanobiology and students from various universities participated in it, showcasing various research works being carried out in this field.
More than 90 students and research scholars participated in the Symposium.