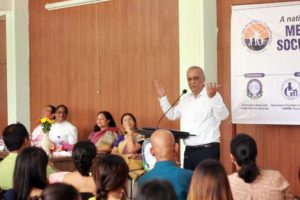 A two-day National Seminar on Mental Health and Social Work Practice, organized by the Department of Social Work, Assam Don Bosco University in collaboration with Lokopriya Gopinath Bordoloi Regional Institute of Mental Health, Tezpur, and Gauhati Medical College and Hospital, Guwahati drew to a close on the 28th April 2018.
"Almost all the states in our country still struggle with mental health and the stigma attached to it for centuries. Despite evolving only in the recent years, social work profession has started meaningful work in the arena," said Padmashri Mukul Chandra Goswami, attending the inaugural session as the Chief Guest.
"A rich real-world experience must back the theoretical understanding if one has to be a true catalyst in the society today," said Dr. Stephen Mavely, Vice Chancellor, ADBU while commenting on the responsibility of the social work professionals and trainers in fusing the essence of academics with actual field experiences.
Prof. Kalpana Sarathy, Deputy Director, TISS Guwahati stressed on the need for the integration of mental health and social work while delivering the keynote address of the seminar. On the other hand, Dr. Riju Sharma, Director, School of Humanities and Social Sciences emphasised on the need of citizen-centric and enabling social niches that could be generated through meaningful participation and partnership between institutions/agencies and communities.
The two-day national seminar hosted a symposium, paper presentations, and workshops facilitated by renowned experts from across the country. Dr Rajaram Subian, International Psychosocial Consultant & Trainer, Executive Director – Basic Needs India; Dr. Sonia P Deuri, Professor, LGBRIMH, Tezpur; Dr Kavita V Jangam, Asst. Professor, NIMHANS, Bengaluru; Dr Anjana Goswami, Founder, Ashadeep, Guwahati, to name a few, presented papers and facilitated workshops.
In the concluding session held today at the Crystal Hall, Dr. Biju Michael, Registrar, ADBU, said, "Resilience is all about how we go through challenges. Troubles that we go through create changes we do not choose but healing is all about changes we choose. Two days spent on how to initiate healing among those who go through trouble have been very meaningful." Dr. Michael appreciated the presence of the rich pool of the resource persons and participants from across India and expressed his gratitude and appreciation to all the collaborators.
"Such a seminar could be organized at least every two years; there is a need to prepare a document on the role and responsibility of social workers in the field of psychiatry and mental health; and it is the need of the hour to form a forum/association of social workers to collectively address the issues emerging in the field of mental health," summed up Dr. Sonia Pereira Deuri, Head, Department of Psychiatric Social Work, LGBRIMH, Tezpur, in her concluding remarks.
Dr. Bornali Das, Assistant Professor, GMCH, Ms. Shanthalembi Lisham, Assistant Professor, ADBU, and Ms. Ainamlin Dkhar, Assistant Professor, ADBU were the Convenors of the seminar.
Written by Gisel Erumachadathu & Victor Narzary