National Conference on 'Quality Configuration for Media Education in India' was held on 2-3 November 2015 at the Azara Campus of the University.
Mizoram Governor Lt General (Retd.) Shri Nirbhaya Sharma inaugurated National Media Education Conference in the presence of the Vice-Chancellors of ADBU and Cotton College University Dr Stephen Mavely and Prof Druba Jyoti Saikia, and Dr Ajit Pathak, Chairman, Public Relations Society of India and GM Indian Oil Corporation.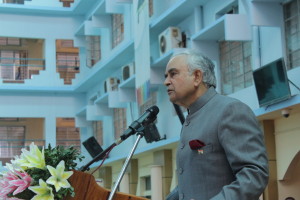 The two-day national conference was organized in collaboration with Mizoram University's Department of Mass Communication (estd. 2011) and Don Bosco University's Departments of Educational Leadership (estd. 2013), and Department of Mass Communication (estd. 2014).
"The prime point of the day is to refine the media education in India to meet the ever-changing demands of the profession by making it relevant and industry-oriented," said Chairman of the conference Dr. K. V. Nagaraj, Professor at Mizoram University and Former Pro Vice-Chancellor of Assam University, Silchar.
Convener of the conference and Head, ADBU Dept of Educational Leadership Dr Paul Pudussery explained, "Given the status and standard of media education in the country, despite an enormous increase in institutions of media education, time has come for media professionals and academia to redesign, revamp and refurbish the portfolio, by altering the system protocol, for a meaningful future."
Among some 180 participants at the conference include delegations from Mizoram University (33), University of Madras (39), Rajiv Gandhi University, Itanagar (6) and scholars from around the country.
The conference consisted of inaugural session followed by 3 plenary sessions and 7 technical sessions during which some 50 papers out of 100 plus abstracts received were presented.
A Pre-Conference Colloquium for students and research scholars was held on 31st October on the theme 'Media, Culture and Society'. There were 23 presentations by Masters students at the colloquium inaugurated by Prof K.V. Nagaraj on Saturday 31st October, 12 from Don Bosco University and 11 from the University of Madras.