A two day National Conference on Environmental Remote Sensing(NCERS)  was held at the School of Technology on 13-14 December 2016.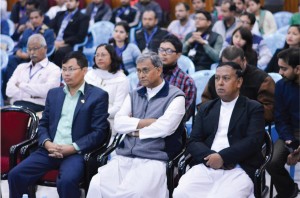 The conference was inaugurated by the Chief Guest, Shri PLN Raju, Director, North Eastern Space Applications Centre. Prof. Arup Kumar Sarma, IIT Guwahati was the guest of honour for the inaugural session and Dr. Sameer Saran, Scientist SF, Indian Institute of Remote Sensing delivered the keynote address. Fr Stephan Mavely, Vice-Chancellor, Assam Don Bosco University(ADBU) extended his heartfelt gratitude to all the resource persons, participating researchers, students and organizers for making this attempt of holding a National Conference on remote sensing application as remote sensing technology has not yet been utilized extensively in-spite of having enormous scope for North East India.
The inaugural ceremony was presided over by Prof Manoranjan Kalita, Director, School of Technology. In his speech he urged to create awareness among the upcoming student community and researchers by showcasing the potential of remote sensing in resolving the core issues of the subjects of Geo-informatics.
In the two day technical session of the conference the resource persons were Prof. Parag Phukon, Head of Geological Sciences, Gauhati University, Prof. Subashis Dutta, Head of Civil Engineering, IIT Guwahati, Prof. Anup Sakia, Head of Geography, Gauhati University and Dr. Dhrubajyoti Sahariah, Dept. of Geography, Gauhati University. They delivered invited talks on various aspects of environmental remote sensing. The conference was attended by more than 70 participants and 21 technical papers on various topics supported by remote sensing such engineering, geography, geology, environment, hydrology and meteorology were presented.
Remote sensing is the data capturing tool of Geo-informatics which is described as electronics sensing of the object or phenomena at a known time without being physical contact with the object. The basic advantage of remote sensing is that data are spatial in nature and devoid of human subjectivity.
NCERS-2016, organized by Department of Civil Engineering and Department of Electrical and Electronics Engineering  and was co-sponsored by Indian Space Research Organization (ISRO), Department of Space.