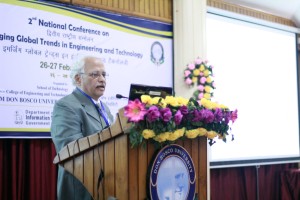 The second national conference on 'Emerging Global Trends in Engineering and Technology' (EGTET) was held at the University on 26-27 February, 2016.
Scholars and researchers from 17 institutions participated in this Conference and discussed latest developments in the various branches of engineering and technology. The Conference is the 7th National Conference organized by the School of Technology since its inception.
Dr.  Dharma Ranjan Das, Advisor, Ministry of Renewable Energy (North East Section), Government of India was the Chief Guest at the inaugural function. Over 70 scholars, scientists and technocrats from across the country participated in both paper and poster presentations held during the two day conference.
Speaking about the importance of interdisciplinary research at the opening function, the Vice Chancellor Fr. Stephen Mavely said, "Though Nobel prize will continue to be awarded to researchers of pure science, human life will be better served for the inter-disciplinary research".
At the plenary session, the invited speaker Prof. S.C. Mehrotra spoke on the coming crises in India in the areas of healthcare, clean water for all, quality education, providing food for everybody, generating energy at low cost and making our cities and villages free from air pollution, water crises and violent crimes. "Only technology can help and solve these problems," said Prof. S. C. Mehrotra.  He is a former Srinivasa Ramanujan Geospatial Chair Professor, Dr. Babasaheb Ambedkar Marathwada University, Aurangabad, Maharashtra.
There were 5 sessions, 23 oral presentations and 17 poster presentations, all focusing on the initiatives that promote research and developmental activities in the disciplines of Computer Science Engineering, Electronics and Communication Engineering, Electrical and Electronics Engineering, Mechanical Engineering, Civil Engineering and Basic Sciences.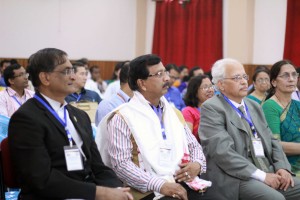 "The findings from the conference could contribute knowledge towards practical implementation of different development policies and also in the economic transformation of the region. It is a great platform for exchanging the know-how technologies and new findings" said the Convener and HOD, Department of CSE & IT, Prof. Yumnam Jayanta Singh.