GUWAHATI — In the Friday lecture series held at Assam Don Bosco University Guwahati, 25 October, Researcher Dulen Saikia, Asst. Professor at Sibsagar College, Joysagar delivered a talk on the Topic: "Nanoscience in Solar Energy Research."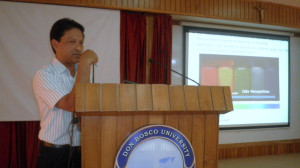 Mr. Saikia conducts his research at Material Science Laboratory, Department of Physics,
Sibsagar College, Joysagar, Assam.
In the presentation held at ADBU's Conference Hall attended by research fellows and faculty including Vice Chancellor, and Director of Research, Mr Saikia explained the importance of quantum dots (QDs) and different kinds of nanomaterials and its application to various fields including solar photovoltaics.
Each year, he said, millions of tons of toxic pollutants are released into the air from both natural and manmade sources causing air pollution, and global warming.
To correct the present environmental problems as well to help sustain the planet for future generations, he proposed, use of renewable sources of energy as need of the hour.
Among the renewable energy sources, Mr Saikia claimed, Solar Energy is the ultimate source as it allows for removal of greenhouse gases and other pollutants from the atmosphere.
Mr Saikia also explained the importance and development of different generation of solar cells (1G, 2G, 3G and 4G) and the biggest challenge in reducing the cost/watt of delivered solar electricity can be achieved through 3G and 4G solar cells.
Explaining further, he said, 3G solar cells uses organic, electronic conductive polymers and QDs while 4G Solar cells is based on 'inorganics-in-organics' technology and offers improved power conversion efficiency to current silicon based 1G and 2G solar cells.
In conclusion he said, "to save our planet for future generation we should give more focus on use of pollution free renewable energy than fossil fuels."