GUWAHATI – A student who
snatched the first rank in Nagaland University's Bachelor of Education this year has joined Assam Don Bosco University's new program – Masters in Psychological Counseling.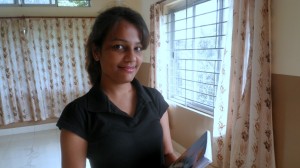 Cassandra Caszo scored 81 percent marks in the B. Ed while the second rank holder in the same department got only 71 percent. Caszo who prefers to call herself "a simple girl from Khargpur, West Bengal" was a student of Bosco College of Teacher Education (Bosco B.Ed. College) Dimapur, Nagaland, which secured top seven positions in the B.Ed. 2012-2013 examinations held under Nagaland Central University, Lumami. A total of 100 students from the college appeared for the exam this year, of which 92 passed in first division. Elder of two siblings, Caszo says family plays the most important role in the success of the child. "My parents and a younger sister are really encouraging in all that I do, and my family has been most supporting." Bosco College principal Fr Joseph Cherian commended the hard work and dedication of Caszo saying, "A dream doesn't become a reality through magic; it takes sweat, determination and hard work." He wished Caszo further success adding, "Hearty Congratulations to you Ms Cassandra! Keep smiling…Keep scaling the heights of excellence!" Reminiscing about her alma mater, Caszo says ecstatically, "Bosco College of Teacher Education, Dimapur is one of the best colleges for B.Ed in Nagaland. The principal
Fr. Sabu Jose has been encouraging right from the very beginning." "The teachers are dynamic and resourceful, and the entire atmosphere in and around the college was very conducive," says Miss Caszo listing some factors that helped her succeed. She adds, "All these factors along with my hard work and determination have really paid off." Sharing her secret strategy to success she says, "I usually used group discussion as my major method of study. It was really helpful and I recommend it to every student." "I really enjoyed the B. Ed program," says Caszo who did not shy away from the various seminars, the micro-teaching classes, the teaching practice and even staying up overnight preparing my lesson plans and charts." On the choice of venturing into new area of study in stead of joining the work force, Caszo says, "joining ADBU has been another major turning point in my life as the course, the two year program Master in Psychological Counseling, is providing me a direction in my professional life. I aim to be a teacher as well as a counselor so as to be able to deal with children in an effective way – not only impart education but also contribute to their well-being." The five year old university has come up with four impact making Masters level degree courses under its School of Social Sciences, namely: Social Work with Social Media skills, Child Rights & Development, Educational Leadership, and Psychological Counseling.