The School of Technology organised the national conference "New Approaches of Basic Sciences towards the Development of Engineering and Technology-2015" (NABSET 2015) on 27-28 February, 2015, with Dr. Samrat Dey from the department of Physics and Dr. Nibedita Kapil from the department of Chemistry as the convener and the joint convener, respectively.
More than 150 participants from different parts of the country attended the conference. The conference drew enormous interest from many central and state universities, IIT and research institutes of Northeast India, as well as, from other parts of the country and also countries from Middle East, Africa, Europe and USA.
Ultimately, the technical committee accepted around 50 high quality papers for the conference. Besides, a large number of invited speakers form premier research institutes of the country (e.g., Bhabha Atomic Research Centre, AMD, Department of Atomic Energy, Indian Association for Cultivation of Science, etc,), a number of universities, IIT and other institutes have contributed to the conference.
The Conference was inaugurated by Prof. Gautam Biswas, FNA, Director IIT Guwahati. Prof. Soumitra Sengupta on GOD PARTICLE.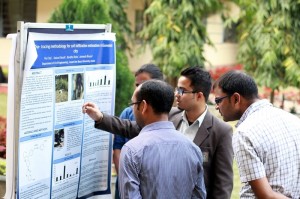 The valedictory sessions of the conference was held in the evening of the second day with Prof. K. D. Krori, UGC Emeritus Professor as the Chief Guest.