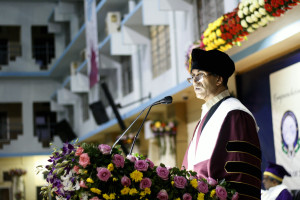 Addressing the graduates of Assam Don Bosco University (ADBU) at the Second Annual Convocation, 21st September, the chief guest at the convocation Prof Amar Nath Rai, director of National Assessment and Accreditation Council said, "I'm happy to note that the University lays great emphasis on 'intellectual competency', 'social commitment', 'imparting holistic education' and preparing 'knowledge professionals'."
He complimented ADBU community saying, "It is indeed a matter of great pride that Don Bosco University with its modest beginning in the year 2008 has grown to encompass a wide array of courses in Engineering, Management, Social Sciences, as well as Distance and Online learning."
Prof Rai further pointed out that "the University's commitment to create individualism, professionalism and inculcate scientific temper among its graduates, with stress laid on ethics, is noteworthy. Though I'm no stranger to this nascent University, I'm impressed by the rapid strides taken by it in terms of infrastructure, diversified academic activities and Service to the North Eastern States."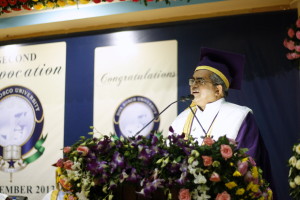 The ADBU Chancellor Fr V.M. Thomas reminded students that "the story of the triumph of the human spirit isn't about people who quit when things got tough. It is about people who kept going, who tried harder, who loved their passion for work too much to do anything less than their best. 'Tough times never last – Tough people do".
He said, "my sincerest congratulations to Fr. Stephen Mavely, VC who despite all the challenges has taken the institution to greater heights of excellence and has dreams to create a world class institution in the new campus at Tapesia."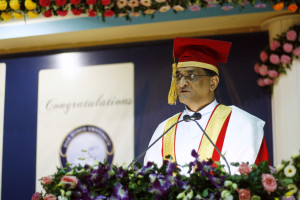 The Vice Chancellor Dr Stephen Mavely, outlined the progress of the ADBU over the last five years saying, "From four courses in Engineering and Technology in 2008, today the University boasts of five Schools: School of Technology, School of Social Sciences, School of Applied Sciences, School of Commerce and Management, and School of Religion and Culture, conducting six undergraduate programs, eight post graduate programs, and a variety of doctoral programs in 13 disciplines."
On Campus programs are conducted at the three constituent Units of the University: Don Bosco College of Engineering & Technology (Azara), Don Bosco Institute of Management (Kharguli), and Don Bosco Institute of Social Sciences (Azara).
University launched its Centre for Online and Distance Education (CODE) on 8th December 2010 with a variety of online courses in Management and Information Technology. The Centre has a dedicated Director and an Executive Director with all the courses conducted online.
Apart from Doctoral candidates, the University has cultivated also a vibrant research culture among its staff. Research projects of our faculty members are being supported by various funding agencies like All India Council of Technical Education (AICTE), Department of Biotechnology (DBT) Government of India, Department of Science and Technology (DST Government of India, UNICEF etc).
The University is in a position to expand the reach of these and other courses through the vast network of Colleges (42), High Schools (320) and Technical Schools (123) that the Don Bosco Society owns and manages in India.
The university has today 1,385 students for its campus programmes, over 600 of them availing of hostel facilities. It's Online and Distance Education wing, called DBU Global, has over 4,500 students pursuing a variety of study programs in Management and Information Technology on its on-line portal. This gives us a staff : faculty ratio of 1:1.5, and a faculty : student ratio of 1: 16.5 both of which fall well within the ideal ratios prescribed by accrediting and statutory bodies.
A year ago, breaking with tradition as it exists in universities in our country, we created a Department of Human resources with a full time Director invested with the major task of creating and maintaining an ethos that is typically Bosconian, professional, and oriented towards internalising and advancing the vision of the University, and invested with the task of employee management covering recruitment, induction, in-service training and performance appraisal.
ADBU has Networking and collaboration with 14 international
and national institutes of higher learning.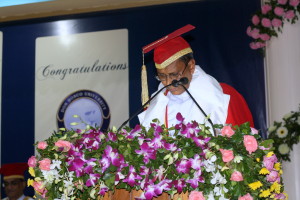 Pro-Vice Chancellor Dr Joseph Nellanattu read out Chief Minister Tarun Gogoi's message in absentia.