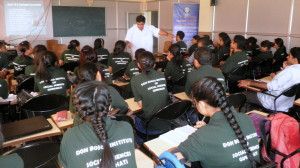 The five day "Social Media Applications for Social Work" workshop for students of Don Bosco University's (DBU) Institute of Social Sciences Guwahati concluded Wednesday, 21 August showcasing social media campaigns at a function held for the entire MSW student body.
The Masters level 45 hour (3 credit) course trained MSW 3rd semester students who had no prior professional media skills to be a "Citizen Journalist."
The course facilitated by Fr Robin Gomes from Kolkata and Fr C.M. Paul was the first of its kind attempted for students of Social Work.
"We are following the principles of Backpack Journalism but applying it to grassroots level social activists who have no access to professional equipment. The trainers challenge / opportunity was to tap students social media application skills exhibited in the use of mobile phones as camera, and audio/video digital recorder," says DBU Head of Communication and Media Department, Fr C.M. Paul.
"The students used their laptops for both audio and video editing using software available from Open Source," he explained.
Revealing workshop mood Fr Paul added "We stretched the students and their machines to the extreme limits… Movie Maker software crashed, team sprit sagged… but they kept going spurred on by the competition between 12 teams!"
Prior to the workshop, the DBU Registrar Dr Basil Koikara spent two hours training the group in audio editing with Audacity software and another two hours for Videopad software for video editing.
After a 15 hour training in news writing and reporting for newspapers / website / blogs / FaceBook and Twitter, the students had 30 hours of hands on training in the production of photographs, campaign banners and posters for FB postings, Podcast and YouTube film on the campaign topic.
The group of 50 students worked in 12 teams on social issues like clogged sewage, open drains, educational stress, social networking addiction on campus, lack of playground facilities, canteen cleanliness, child labour, and sale of tobacco products at college back gate.
"We enjoyed working in groups and it was great joy to see our articles and photographs on the MSW department blog www.adbusw.wordpress.com created for the workshop," says Nadeen Pakyntein from Shillong.
"The process of creating the five minute radio magazine for Podcast and five minute YouTube film on our campaign topic was more exciting, as we learned tricks of the trade hands on," says Lijo Joseph from Balasore.
The workshop concluded with a graduation ceremony held for all MSW students during which the Vice-Chancellor and HoD Social Work handed over certificates of participation to all students who had full attendance and successfully completed the program.