A one month International Student Volunteer Exchange Programme – 2014 between the Department of Social Work, Assam Don Bosco University and University College Dublin Volunteer Overseas, Ireland was inaugurated on 15th June 2014 at 10 am in the Conference Hall of Assam Don Bosco University, Azara by Rev. Fr. Stephen Mavely, Vice Chancellor, Assam Don Bosco University in the presence of the Mr. Probin Medhi the Panchayath President of Azara, Mr. Sarat Das Headman of Keotpara and Hirapara Villages, and members of the academic and administrative departments of the Assam Don Bosco University, Anganwadi Workers, ASHA workers, youth and children from the villagers of Keotpara, Hirapara and Hatkhwapara.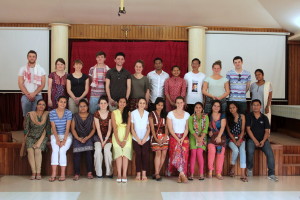 Eleven volunteers from Assam Don Bosco University coordinated by Faculty of Social Work Mr. Jacob Islary and seven volunteers from University College Dublin Volunteers Overseas (UCDVO) led by Manager UCDVO Ms. Caroline will spend the next 30 days working in teams and collaborating in various fields.
The volunteers shall engage in home/field visits in villages around Deepor Beel and development of Micro Level Plans (MLP) on sustainable livelihoods for fisher folk communities in around the Deepor Beel, undergo workshops on development practices and carry out carry out awareness campaigns on health, hygiene and cleanliness, domestic violence, alcoholism and education to mention a few.
The Exchange Programme envisages promoting understanding of multilateral issues at the global level, enhancing the competencies of the participants, and building skills and ability to work in close collaborative social, economic, political, environmental and development concerns in the context of rapid globalization. The programme includes academic engagements and field practices.
The objectives of this programme are –
To channel the skills, energy and enthusiasm of university students into projects which enhance the development of marginalised and underprivileged communities.
To create space and opportunity for university students from Assam Don Bosco University (ADBU), India and University College Dublin Volunteer Overseas (UCDVO), Ireland to share learning and experience in the areas of participatory community development and social outreach.
To enhance intercultural awareness between students and communities for the purpose of increasing global solidarity and interconnectedness.
To promote attitude of appreciation for other cultures, practices, and traditions.
Speaking on the inauguration programme Fr. Stephen Mavely exalted the spirit of the volunteerism among the participants and asked them to 'make the best use of time so that the experience becomes meaningful and beneficial for both the participants and the community people.'