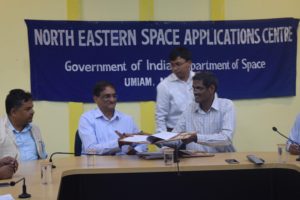 The University  on 13th June 2017 signed a Memorandum of Understanding with North Eastern Space Applications Centre (NESAC), Department of Space, Government of India located at Umiam, Meghalaya.
Both parties, recognizing the importance of research and development in the areas of Remote Sensing, Atmospheric Sciences, Satellite Communications, Unmanned Aerial Vehicles, Civil Engineering, Electrical Engineering, Computer Sciences, Electronics and Communication Engineering, Physics, Aero Space Engineering and other relevant areas with space technology based inputs, agreed to collaborate in academics and take up joint research projects in these areas.
According to this agreement, both ADBU and NESAC will encourage interaction between scientists, research students, faculty members and students of both the organizations through organizing joint conferences and seminars, joint guidance of projects and research work of the students and NESAC personnel. In addition, students of Don Bosco University will be able to do summer training/dissertation at NESAC.
The MoU was signed by the Director of NESAC, Shri PLN Raju and the Vice Chancellor of ADBU, Fr. (Dr.) Stephen Mavely in the presence of Prof. Manoranjan Kalita, Director, School of Technology, ADBU, Prof. Sunandan Baruah, HoD, Department of Electronics and Communications, ADBU; Dr. Bijoy Krishna, Scientist Engineer; Mr. Avaneesh Shukla, Administrative Officer; Mr. Ramani Das, Scientist Engineer; Dr. K. K. Sharma, Scientist Engineer; Dr. Dibyajyoti Chutia, Scientist Engineer from NESAC.