The University and NEEPCO today signed an agreement to generate solar power to contribute to the national power grid.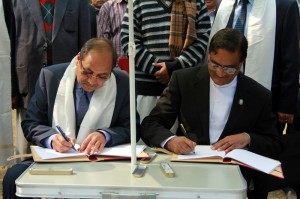 The Chairman and Managing Director of NEEPCO (North Eastern Electric Power Corporation) from Shillong, Mr PC Pankaj, accompanied by Director (Technical) Mr Utpal Moral, and Executive Director Mr Rajat Sarma sign an MoU (Memorandum of Understanding) between Assam Don Bosco University (ADBU) and NEEPCO for setting up a 2 MW Solar Power Plant at ADBU's 500 acre Tapesia Campus.
The university officials who signed the memorandum included Vice Chancellor Dr Stephen Mavely, Pro-Vice Chancellor Fr Joseph Nellanattu, and the Registrar Dr Basil Koikara.
The initial capacity of the solar power station covering some nine acres of land will be increased as needed to 4 MW and more.
This is a prestigious project as it is the first time that a government agency is dealing with a private University in setting up a power plant," says Mr Pankaj.
"For us too, it is prestige to have NEEPCO as our partner in developing our university campus," adds the ADBU VC Dr Mavely reiterating the same sentiments.
The VC did not hesitate to add, "this is a big step forward to ensure power supply for our campus and a bigger step in heeding to environmental concerns in creating an eco-friendly campus."
The signing ceremony took place at noon in the front lawn outside VC's Office in the presence scores of faculty members who took the occasion of the lunch break to be present, 9th February.
Before leaving, Mr Moral expressed great interest in delivering some lectures during which various departments could interact with him directly.
He also proposed to make arrangements to facilitate internships and placements of students at various NEEPCO worksites around the country, especially in the North-East.
NEEPCO Shillong is an electricity generation public sector undertaking owned by the Government of India under the Ministry of Power. It was formed on 2 April 1976 to plan, investigate, design, construct, generate, operate and maintain power stations in the North Eastern Region of the country.